Revolutionary Creamy Formulas
There's nothing wrong with needing a little help in bed, is there, boys? Whether you're bottoming, topping, or going solo… Boy Butter's got all your dirty deeds covered.
Rest assured that the lube found in the iconic Boy Butter tub will be of the highest quality. They are committed to creating a lube that lasts as long as silicone lubricant. Yet washes off with water alone. So no more shame stains. Boy Butter uses organic ingredients. Avoiding any synthetic or silicone in our products. Making their lubes more gentle, totally edible, washable, and safe on all toys. Including silicone toys.
Water-based lubes
Boy Butter Clear Formula
Ever had fantasies of voyeurism? Of coming in and leaving a place without a trace? Well, Boy Butter Clear Formula is on the same level. It is a highly concentrated silicone-alternative. Clear Formula is a 100% water-based lubricant. It's non-staining, hypoallergenic and is latex and body safe. Enjoy the copious amounts of vitamin E rejuvenating the skin while keeping it slick. Moisturizing the area while slowing the water from evaporating during use. Don't be afraid to use it on all your toys, too, since none of the ingredients will react harshly with any toy material. Rub it on and you'll be saying "I can't believe it's not a silicone personal lubricant." Wash it off with only water on skin and fabric. It's like it wasn't even there.
Boy Butter H2O Formula
Boy Butter H2O is a water-based cream lubricant with added Vitamin E and Shea butter. (Also known as You'll Never Know It Isn't Boy Butter.) It's whipped into an organic creamy faux-grease. Boy Butter H2O is safe for both men and women (for all the bisexual boys out there).
Boy Butter H2O starts off creamy. Then he body heat and friction turns clear. Resulting in a water-based personal lube that feels like oil but is condom and vagina safe. This is a lub efor masturbation, anal, and vaginal sex. It's long lasting, gentle, and non-staining fun. The best part of all, the lube will absorb into your skin and leave you moisturized. What a supple way to end the play.
Boy Butter Fresca Formula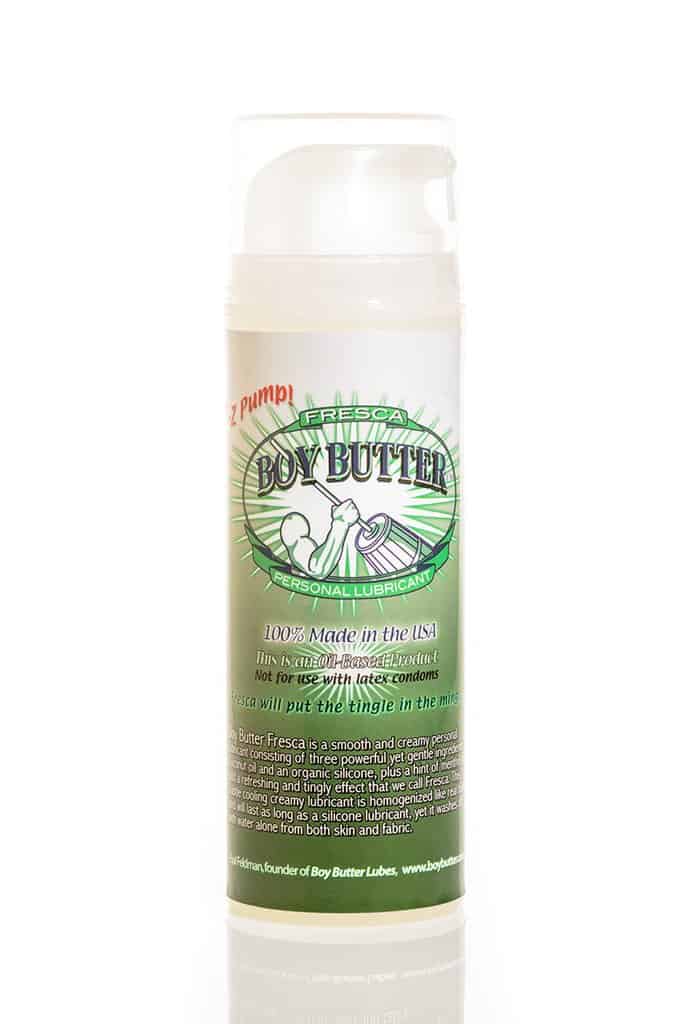 "Put a little tingle in the mingle" says the bottle, almost smirking at you. Boy Butter Fresca knows how to make things more interesting in bed. Add it to your foreplay or sex adventures for new body sensations and liven things up. You and your partner will feel cool and refreshed all throughout the romp. That's why it's the same Boy Butter H2O personal lubricant but with a little bit of menthol thrown in. Enjoy the creamy texture that will never feel sticky and the longevity of this lube. It will last longer than you will and smell great while doing it.
Alright, you've gotten a taste of the water-based lubes… but what if you want something thicker and stronger? In that case, oil-based lubes will be for you.
Oil Based Lubes
Boy Butter Original Formula
Take it back to the OG. Boy Butter Original is an oil-based lube. Derived from two powerful yet gentle ingredients: Coconut oil and silicone. The ingredients are homogenized like real butter. It's one of the best oil based lubes out there. Boy Butter Original will be creamy, smell and taste great, and feel amazing when used. After the steam from your body cools… wash it from your skin and fabrics with water alone.
Boy Butter Original Formula is safe for all toys but not safe for latex condoms. Use it with polyurethane condoms like Durex Avanti and Trojan Supra.
Boy Butter Warming Formula
Imagine: You're making out, having a good time. Things are getting a little heated. Why not turn up the temperature even more with Boy Butter Warming Formula? It's an organic, oil-based cream lubricant with a spicy twist. Enjoy the tingly, warm sensations when used on your skin and you'll be hot and bothered all night long.
Desensitizing Lubes
It happens. You get a little too excited and jump the gun a bit too early. To keep this from happening again, you might want to invest in some desensitizing lube. Make yourself last longer and enjoy your new thrusty companion.
Boy Butter Extreme Desensitizing Formula
Push yourself beyond your normal limits with Boy Butter Extreme Desensitizing Formula. With this guy on your nightstand, you can say goodbye to premature ejaculation. Say hello to longer lasting play time.
Boy Butter Extreme Desensitizing Formula is an oil-based lube. It includes 5% Benzocaine, a local anesthetic.Apply it to yourself… let it sit for a few minutes… then wipe it off before getting your partner involved. Otherwise you might numb your partner as well. Your fun parts get a little numbed, meaning you can keep going. And going. And going.
Slick and creamy, it's bound to still feel good. And once you get feeling back, enjoy the moisturizing effects the lube has on your skin.
Conclusion
Let's give a hand to Boy Butter because it's truly got you covered with any and all things sex. Use it for personal massages, handjobs, anal, vaginal sex, or anything else you can think up. Its initial creamy texture becomes slicker… encouraging you to keep going.
The natural and organic ingredients mean that the lube is totally body safe and make clean up a breeze.
Boy Butter makes a fantastic variety of lubes. They last a long time and need minimal reapplications during use. Cleanup afterwards are easier than with many other lubes. Make room for Boy Butter on your nightstand, boys.