Cover Your Junk in SPUNK Lube
You use personal lubricant to get a certain job done: Reduce friction while enhancing the sensations during sex. Most lubes will be able to do that. But what if you want a lube that's a little kinkier?
Well, SPUNK lube has got you covered.
SPUNK got its name because it looks like the real thing. The milky white color and viscous thickness, you won't be able to tell spunk and SPUNK apart. Not only that, boys, the white and creamy texture is the perfect blend to create just the right consistency for anal. Keep it up all night long and you'll need to replenish your bottle in no time with this awesome personal lubricant.
For those fluid fetishists out there, use it for a kinky facial photo if you don't have the real thing or to simulate a creampie. SPUNK's look and feel of cum will be sure to titillate a few folks out there.
And for those of you who range from monthly one-night stands to marathon sprinter endurance, you can get the size that suits your needs. You can get a small 2 oz bottle or an entire GALLON (128 oz) bottle of lube that will help with sensitive skin areas. How quickly you go through it up to you.
Now that you know what sizes are available, let's go deep into what SPUNK can offer you:
SPUNK Hybrid
Get the longevity of silicone lube with the versatility of water-based lubes. It's touted to look and feel like natural body lubrication and fully allows you to feel the joy of skin on skin contact. The best part of all, you can have the glide of silicone lube without worrying it will damage your toys. Spot check first, of course, but you should be in the clear to use your silicone dildo for hours on end.
Customers raved over SPUNK Hybrid:
"I accidentally found SPUNK lube while on vacation in Louisiana. It felt so awesome that I had to get some more. The boyfriend and I use it all the time—it literally feels like cum, which is awesome. Great product, I would recommend it to anyone." – Rich from Texas
"Love the silky and slippery texture of spunk lube pure silicone. I tried it last night; I got off 3 times. Needless to say, I have to have some more." – Frank from Illinois
This lube will be put to good use when you get it.
If you want something that looks and feels like real cum, then look no further than SPUNK.
Lasts a long time
Can be reactivated with spit or water
Hybrid shouldn't react with silicone toys (but spot check anyway)
Good for cum fetishists
Amazing for handjobs, vaginal sex, anal sex, toys, and strokers
It's the perfect consistency for anal, helping reduce friction while moisturizing the area on which it is placed. No more discomfort during your most intimate moments. Get a bottle of SPUNK sexual lubricant. Enjoy it during sex or by yourself. Soon enough you won't be able to tell the difference anymore.
Pink SPUNK
You've heard of the pink triangle, but have you heard of the pink lube? Show yourself just how fun putting a little pink in the stink can be. It's still the same hypoallergenic, non-staining, and long-lasting lube as all the other ones, just a bit more fabulous. Here's what customers had to say about it:
"It's an awesomely smooth and comfortable ride for both anal, sex toys, and solo. There's no stickiness either which is great. It even helped to soothe my tender new tattoo where I had sensitive skin. Fantastic lube." – Paul from the United Kingdom
"I grabbed the pink hybrid. And wow! It was awesome. Self-pleasuring has gone to a new level. When it used it on my toys, intense is the only word to describe it. Old lubes I tried simply dried out and became irritable but never with SPUNK. Even cleaning up afterward is simple. Order yours today!!! I guarantee you will never be disappointed!" – Fredo from New York
Pure Silicone SPUNK
Easily the most versatile of lubes, silicone's got you covered in a variety of sexual scenarios. Wanna take things to the shower? Let the slip and slide continue without letting things dry out during intercourse. Silicone can be used in water, so hit up the hot tub and bath along with your favorite sex toys.
Also, silicone dries up much slower than other lubes so you won't have to reapply it all that much. Once it's on you're good to go. Enjoy long lasting wetness during use with the special blend of 100% clear silicone that is sure to outlast you.
Not only that, but the SPUNK Silicone is free from glycerin, parabens, propylene glycol, and other nasty ingredients. You won't have to worry about odd body smells or infections anytime soon. It cleans up much easier than other traditional silicone lubes due to its non-additive or preservative composition so have your fun then leave without a trace.
SPUNK Natural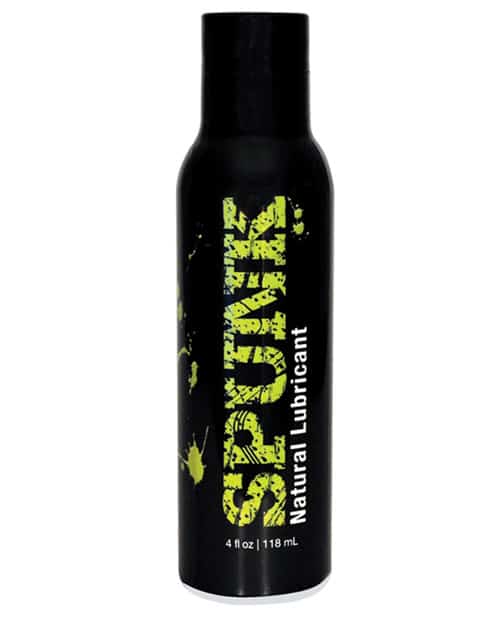 This lube is good for those of you who have allergies or just want something that isn't full of artificial chemicals. SPUNK Natural lube is made from a unique blend of edible virgin coconut oil and organic avocado that will lock in moisture and give you great personal lubrication. It's free from silicone, glycerin, and parabens as well as other unnecessary ingredients. It looks great, smells great, and will feel wonderful on your skin, making it great for massages, handjobs, anal, toys, and strokers.