It is Saturday night. You're looking forward to the hottie (or hotties) that destiny is sending your way tonight. You step out of the shower and you need to look your best underneath. Not just on the outside. This underwear fabric guide shows you how to pick fabrics that steal attention and feel amazing.
Tidy white briefs used to be the main stay, but no more. New underwear fabrics have created opportunities for display and excitement like never before. They include soft cotton fabric that nicely snugs your package and your butt.  Spandex gently cools your crotch.  You can select the color, style, and design you want for this evening's adventure.
Here are modern underwear fabric types. Each type of underwear has been designed to fit all kinds of bodies, shapes, and packages. From show-ers to grow-ers… here are our favorite underwear fabrics. They're perfect for a variety of activities.
Modal underwear fabric
Something that is old is new again.  Modal fabric originated in 1951 and was used in the making of clothing in 1964. It is a type of rayon crafted from beech trees. When combined together with spandex turns into the most perfect fabric for underwear.
Modal resists creasing, drapes perfectly, and keeps it shape. It has plenty of stretch is extremely smooth to the skin. Its best attribute is its ability to accept dying. Colors remain vibrant and do no run or fade. Modal underwear fabric is 50% more absorbent than cotton. It does not trap perspiration and odors.
When washing, wash in warm water to keep the shape and stop shrinkage. However, it is very important to read any additional washing instructions on the tag.
The beauty of this type of underwear is that it fits any type of man. It allows him to show off his best assets. The underwear fabric is sensual to the touch and when exposed to the air, is breathtaking.
The array of colors provides a variety of combinations.  It will highlight your skin and showcases your package.
Modal offers good support and dries quickly, helping you avoid swamp crotch. It's a luxurious fabric that's great for everyday wear. But it is not the best support for more sporty activities. Such as a heavy work out, biking, or when you are out jogging. Once you finish, you may take a pair to wear home because of the way it makes your skin feel.
2UNDR Swing Shift 6″ Boxer Briefs in Patterns help you achieve the perfect feel under your gear with the finest beechwood fabric in their signature modal and spandex material. The fabric is less likely to fade or pill as a result of friction. These boxer briefs are formulated to be cool to the touch, absorbent.
Nylon underwear fabric
Nylon fabric has been around for almost one hundred years. It is a synthetic fabric that has been used for the creation of undergarments.
Because nylon can be manufactured thinner it allow for all type and designs of underwear. Nylon offers diversity in underwear creation.  This includes boxers, briefs, boxer briefs, jock straps, and thongs. As a manufactured product nylon has its strengths and weaknesses.
For workouts, nylon will keep your private area dry; however, nylon has a short life span. It is thinner and therefore subject to snags, running, and other tearing. When damaged, it also starts to ride up and shift.
Nylon bonded with cotton strengthens the underwear fabric. It provides a heightened level of comfort and breathability.
Nylon underwear fabric is more for show than for standard normal wear. It is for that special occasion where you want your best assets out front.  Also, for those with our without tan lines, this underwear fabric shows them off. The best use for nylon underwear, jock straps, or thongs is for taking you to the kinky side of sex.
It is great for wearing and showing off before taking the plunge into a great evening or morning of fun.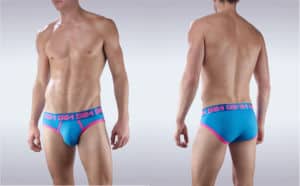 Garcon Model Nylon Microfiber Underwear
Luxurious fabric and style for men looking to feel good in a form-fitting pair of underwear. Comfortable and soft nylon microfiber redefines underwear. Look your best in Garcon Model.
Polyester underwear fabric
Polyester should not be thought of as that cheap nasty fabric of the 1960s and 1970s. New recent weaving techniques integrate polyester with other fabrics to manufacture underwear. Poly-blend underwear fabric is longer lasting and more durable than ever before.
The styles, colors, and fit have changed and are no longer those boring pastel colors. Polyester can be vibrant and withstand constant use. Poly-blend underwear can be worn in the gym without worry of water collection in the wrong places.
Poly-blend underwear fabric opens up so many sports fantasies.  This includes compression shorts, sliding pants, biking shorts, and super hero onesies. Polyester fabric stretches, does not wrinkle, and reduces sweating.
Poly-blend fabrics has made polyester upscale and no longer that bad word in fabric. Read the label and feel the material. Get to know how polyester can provide that special night with a new twist.
JOR underwear is made from silky soft microfiber fabric that is nothing short of pure luxury. Wear these undies when you want to make a statement; both in style and comfort. Their fun prints and fabrics will send you to a groovy mode in a sec.
Supplex Nylon underwear fabric
Modern underwear is no longer one fabric manipulated into a generic form. The blending of underwear fabrics has opened the underwear market to new possibilities. Like so many of the fabrics listed above, Supplex Nylon is a composite fabric.
Supplex Nylon is stretchy and fits all shapes and sizes. It is great for workouts like yoga, Zumba, spinning class.  Other activities are open to this very versatile underwear fabric.
Breathable fabrics are a must in today's underwear and accompanying under garments. Too much sweat in the wrong place at the wrong time can lead to a very disappointing evening.
Supplex Nylon can take dyes, color, and different thicknesses. It will  still keep their form and color after multiple uses. It ability to keep you cool and dry opens up the uses for this underwear fabric. Supplex Nylon is waterproof, washable, and dries quickly.  It makes them the perfect pair of underwear for traveling.
Great for the active man! Cocksox underwear is made with the amazing Supplex fabric that wicks away moisture from the body, feels great and is fully breathable. With seamless back and sides it is amazingly comfortable and fitted, not even a tag in sight.
Spandex underwear fabric
Almost 60 years old, Spandex has seen a major evolution in the fabric. Spandex was first created to replace the use of rubber in underwear for women.  It became the rage once Olivia put them on in Grease on the big screen.  Then Jamie stepped up in Perfect and the Spandex obsession began.
Spandex fabric provides plenty of stretch and is form fitting. But it provided little comfort for men. Once Spandex bonds with other fabrics it has opened up the male underwear market. Especially the man bikini underwear market.
Spandex is form fitting, breathable, and pulls moisture away from the skin. Making it good for working out, running, biking, and for fun.  Spandex allows the wearer to show off their assets either through a nice run through the forest. Spandex is waterproof, water resistant, and antimicrobial.  It protects the wearer when performing a multitude of activities.
Spandex comes in a multitude of colors, patterns, and is able to hold its shape and color after many uses.
Express your bold personality and attitude. Marco Marco underwear is made with spandex blend fabrics. The results are underwear that are comfortable and make a bold statement. Even in their everyday styles.
Discover your underwear varieties and fantasies
Find the underwear fabrics that show off your stuff and fits the way you like. Color combinations, fit, and design brings out the nasty boy in us all. When you are looking for that special pair of underwear Spandex lets your imagination go.  It will let you fulfill some of your wildest fantasies.
The man you are having dinner with may be the one. You want to share your best with him. The way you look when you undress that first night can determine the next phase of your relationship.