It's that time. You've met a guy on Grindr. He's super hot, so of course you like him, AND he says he's a top. You, being the ever-dutiful flower, know you should anal douche before sex. But you don't exactly know how to do it.
Spring cleaning time, boys. You know how to use a butt plug or even anal beads to make sure anus is prepped and ready. It's also time to freshen between those cheeks and really have some fun.
Here's what everyone ought to know about douching.
What's an anal douche?
Besides that guy in the club with an upturned collar talking about how his football team is better than yours. A douche is a device that introduces water into a body cavity, typically the vagina or anus, for medical or hygienic reasons. While douching is most commonly used in reference to the vagina and anal douching called an enema, douche can be used for both body parts. It doesn't really matter as long as you're not a "douche" about it.
Okay, so why douche before anal sex?
A healthy body does a pretty good job of cleaning itself out. That doesn't mean that accidents can't happen. You don't want to take the risk. Especially if you're the type of person that doesn't eat a lot of fiber or your bowel movements are a lot looser.
Even if you can make yourself go #2, you want to make sure you have everything cleaned out your colon before you get down and dirty. If you don't, things might really get dirty, messy, and just plain embarrassing. If you engage in anal sex without properly cleaning yourself out first, you could see something you didn't want to see staining your sheets. To avoid that, it's best to douche your rectum, especially if it's your first time.
Is it safe to anal douche?
Emphatically, yes. People have been doing it for years before anal penetration with no ill effects. You just have to make sure that you're douching properly, taking pressure and water warmth into account when douching, and noting how often you douche. The body is filled with good bacteria that aid our digestion, so you don't want to flush the good bacteria out because of frequent anal douching. It may may lead to illness and upset stomachs. Precaution and mindfulness using a little anal lubricant or silicone-based lubricant are key to a safe, proper anal douche.
There are three types of body douches available: bulb, shower kit, and water bags.
Bulb Syringe Anal Douche
Probably the most common type of douche you'll see, and the cheapest and easiest to use. Most come as two pieces: the squeezable bulb, usually made from rubber or silicone, and the nozzle you insert into your anus. Fill the bulb with warm water, attach the nozzle, insert it gently, and squeeze the bulb to allow water to enter the anal cavity.
These will give you a shallower clean, but you can get larger nozzle attachments that allow for deeper cleanses. Overall, the douche bulb is easy to figure out and use, not complicated, and will give you an effective clean for anal sex if you've never douched before.
But, if you want a more thorough clean, you'll want to use the…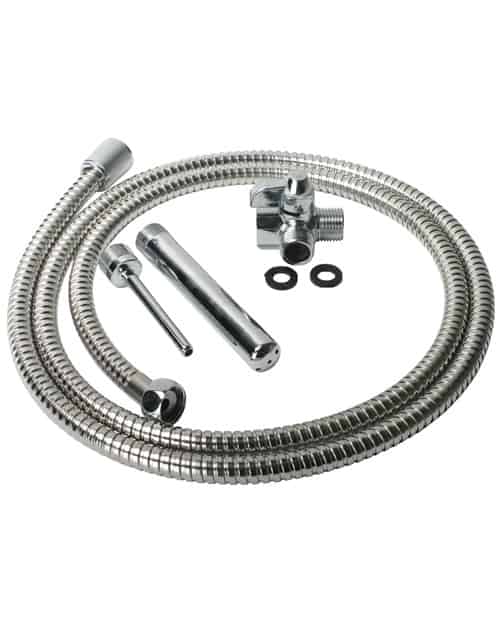 Shower Anal Douche
It's a kit that connects to your shower or bathtub tap. Some shower douches can be permanent other can only be attached when you need it.
The good thing about a shower douche is that you get a consistent flow rate, so you won't need to stop and refill like you would with a bulb douche. Plus, there's no possibility of something called 'suck back,' or sucking back the water that's inside you in the bulb of your douche. That will be gross, and no one wants that.
So, that may be a reason in itself why you want a shower douche to begin with. It'll cost you a bit more, but it's a more powerful, efficient clean for deeper anal play (like fisting or with extra large dildos). Just make sure the water you use is warm and you have the pressure of the shower under control or else you might hurt yourself. It takes a bit of practice to get all this under control, but once you have it down you'll be on your way to amazing, deep, and best of all clean anal sex.
Last but not least we have the…
Water Bag Anal Douche
It essentially combines the best parts of the bulb and shower douche. It's a bag or hot water bottle filled with water and held high on a hook. A long tube is attached to the bag, which has the nozzle. Water bag douches will almost always come with an adapter to help control flow rate of water, and since they aren't permanently attached to showers they can be folded up and taken with you. On-the-go anal cleansing wherever you are!
They can be pretty inexpensive if you find the right kit. Bear in mind, though, that you will have to replace the bag at some points, so this can be a pricier investment than the other two douches. But the portability and deep cleaning ability of this douche might make the investment worth it for you.
Alright, I'm in. How do I douche?
Congrats, you're on your way to ultimate bum fun! Here's a general guide of what you need to do. It's gonna change depending on the type of douche you have, of course, but some things are common throughout all three douches:
1) Make sure that you're relaxed, have a bit of time ahead of you, and that you're near a toilet.
2) Thoroughly rinse the douche, ensuring it is clean and dust free.
3) Make sure the water you'll use is mildly warm. No hot or cold water, as both will cause a massive shock to the system and do some damage. Also, make sure it is just water and nothing else: no soap, no alcohol, no cleaning products. The colon is incredibly permeable and sensitive, and anything other than water can cause irritation that won't feel good during sex.
4) Lube up your anus and the nozzle for easier insertion. Silicone lube most preferable.
5) Insert the nozzle two or three inches inside, as you'll generally only need to clean the lowest part of the colon for anal play. If you want a deeper clean, go deeper.
6) If using a bulb douche, do not let go of the bulb during this part. It will cause suck back and you'll have to clean your douche and start all over!
7) By this point, you'll start to feel like you have to use the bathroom. Hop over to the toilet, sit, and expel everything inside you. It will feel weird at first, but you'll get used to it.
8) Repeat the steps if you want to see how clean you can actually get. The more times you expel, the cleaner the water and thus your rectum will be. It will typically take two or three rectum douche sessions for max cleanliness.
9) Wait 30 minutes after you've completed douching to participate in anal play, as not all the water may be expelled immediately after you've finished douching. It shouldn't be too bad if you don't—just a little wet patch on the sheets.
Wicked Gay Sex Tips
I collected gay sex tips some hot "sexperts" to help you level up your skills and spend less time prowling the apps.
Conclusion
Now that you're an expert on anal douching, go out and get your first one today. It will be a unique experience that will change the way you have anal, and soon you won't be able to go without it. Get more tips in our guide to preparing for anal sex. Be sure to check out or recommendations of the best anal lubes and best gay lubes.