The best warming lubes are perfect for when night time's got you feeling chilly.
Add more sensations in the bedroom and bring a spiciness that you can't get anywhere else. After all, who doesn't like a warm sensation in the bedroom?
The Four Criteria of The Best Warming Lubes
1) Low-Stickiness
The dreaded outcome of some water-based lubes is that it dries out when in use, leaving a sticky gross mess that can suck the fun right out of sex. Obviously, our winners are ones that keep things slick and slippery all throughout usage, never getting sticky before, during, or after application.
2) Affordable Price
We know that you spend your money on other important things, like hair products, douches, and specialty pouch underwear. You don't want to go breaking the bank on a lube. You gotta budget getting laid, after all.
3) Good Longevity
"Yeah, I'll last hours in bed ;)" is something your Tinder date might say, and we know how disappointed we are when the outcome isn't true. Your lube shouldn't be teasing you like that too. You want a lube that lasts a long time and won't require pausing in the middle of sex for reapplications.
4) High-Quality of Glide
You don't buy a lube just to look at its bottle. You want something that makes penetration easier without being too thin, thick, or causing a mess. The best warming lubes make you forget it's even there.
So, considering all this, what are the best warming lubes that beat out all the rest? Let's do it by base:
Best Water-Based Warming Lubes
FIRST PLACE: Wicked Sensual Care Aqua Heat Lubricant
If you want something to turn up the heat, this is one of the best warming lubes for you. Aqua Heat is a unique blend of warming elements to thrill your naughty bits, without being a bit sticky or tacky. Because it's designed for personal moisture, this warming lube leaves the areas you applied it soft and supple after usage is complete. Aqua Heat lube is gentle for all skin type and perfect for all toys and is made from natural extracts. Above all, it's paraben-free, fragrance-free, and made with no animal by-products or animal testing. Wicked Aqua Heat is sure to be incredibly long lasting and body safe, it's sure to bring a new, exotic sensation to the bedroom.
SECOND PLACE: Sliquid Sizzle Warming Lube
Despite the cool, sleek looking bottle, Sliquid Sizzle will dazzle you with its performance. It cools on contact and warms with friction, making it perfect for give-and-take play, extending the sensations so that no one comes too soon. It's made from a unique blend of ingredients designed to emulate the body's own lubrication at a pH neutral level, meaning your body with thank you once you're done using it. Your sheets will thank you too, as this lube is water-soluble and easy to clean. It's 100% vegan-friendly, glycerin- and paraben-free, hypoallergenic, unflavored, and unscented, non-toxic, and ultimately the healthiest lube you can put in your body. Make a zing that's sure to leave you breathless, taking your pleasure to new levels.
THIRD PLACE: System JO H2O Warming Lubricant
What better place to get one of the best warming lubes than from good ol' System JO? They're a giant in the lube world, creating personal lubricants that always deliver in performance and pleasure. Their H2O Warming lube is no different.
It's made from purely plant-based glycerin, which is much better for you than the yucky animal based one, meaning it will give you a silky-smooth glide that's never sticky. It's fragrance-free, toy-friendly, latex condom safe, and safe to use with all body parts. Above all, this is a great warming lube… changing your idea of what sex can be life forever. Even if you've been buying lube from different companies before, you're sure to warm up to the idea of becoming a fan of System JO H2O Warming lube.
FOURTH PLACE: Swiss Navy Warming
A great lube from a trusted company, Swiss Navy Warming will add the perfect glide to intimacy at a great price. You can't beat the ease of use, pleasure, and affordability that Swiss Navy gives you. Making it one of the best warming lubes available.
FIFTH PLACE: Doc Johnson's Mood Warming Glide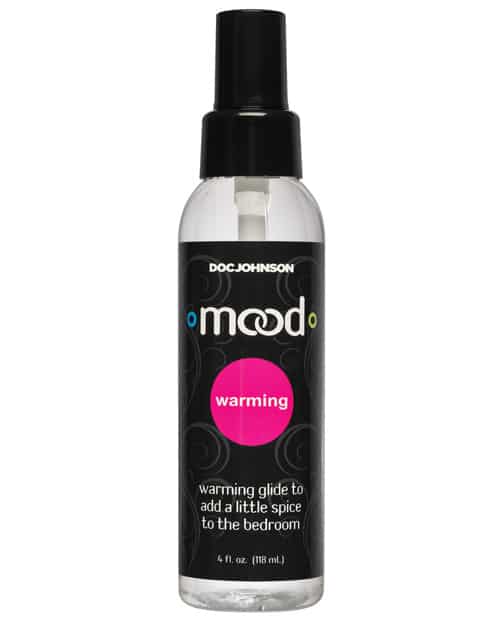 A bit thicker than most other water-based lubes, Doc Johnson's Mood Warming Glide is sure to bring the heat and enhance sensations between the sheets. Masturbation or sex is sure to reach even higher levels of pleasure when you add a couple drops of Mood Warming Glide. For that reason, you'll always be in the Mood for more.
Had enough of water-based lubes? Let's move onto the much-beloved silicone lubes…
Silicone-Based Warming Lubricants
FIRST PLACE: Wicked Sensual Silicone Heat
We know that Tinder created the spark, but you'll need something else to bring the heat. Thankfully there's ULTRA Heat silicone lube from our favorite Wicked Lubes. It's a unique blend of natural extracts and the highest-quality silicone to bring you extra tingles in the bedroom. With waves of warmth to excite your erogenous zones all while adding long-lasting lubrication. As a result, your penetration will be much better than anything you've experienced before. Get satisfied on levels you thought you'd never reach with Ultra Heat Silicone-Based Lube from Wicked.
SECOND PLACE: System JO Premium Warming
System JO coming back in with a great silicone-based warming lubes. It's still just as amazing as their water-based lube, but with all the benefits of silicone. Whether you want to take things into the pool or Jacuzzi, or simply want something that needs fewer reapplications, System JO Silicone Warming Lube will have you covered with its amazing silky feel.
And finally, for those of you who want some sensual massage oil, let's check out the…
Oil Based Lubes
FIRST PLACE: System JO Silicone-Free Hybrid Warming
Gotta love System JO. Their hybrid oil-based warming lube is made from fusing water and coconut oil, making this a totally silicone-free lubricant. Not only that, but it's also paraben- and glycerin-free, making it a totally body-safe lube. It's a creamy white lubricant that's ideal for solo, couple, or silicone toy play. However, it's best not to use it with latex condoms as the oil will break down the latex. Still, grab a partner you trust and feel incredible pleasure with System JO Silicone-Free Hybrid Warming Lube.
Best Lubes For 9 Kinds of Sex
Here's your guide to the best lubes for 9 kinds of pleasure and passion. Matching the best lube with the the sexual activity they're designed to enhance.
What more could you ask for? If you find that the other side of your bed is too cold, bring up the heat yourself with a warming lube. Not only will it feel unlike anything you've felt before, but the quality of the above lubes will make the experience much better. You won't want to go without it.
Explore More Lubes
Warming lubes are an outstanding way to spice things up. Check out the best flavored lubes for when you want to tickle your taste buds. Our best anal lubes are especially handy when you're feeling really adventurous.