Sex is all about pleasing the senses with touch, sight, and sounds. But what about taste?
Pleasure your tastebuds by adding delicious flavored lube to your next night in bed.
Most people use flavored lubricants to make oral sex more enjoyable for the giver. With or without a condom.
But flavored lubricants can be used for a variety of scenarios too. Such as prolonged nipple play and long-lasting neck kisses.
You can put both flavored water-based lubricants and silicone-based lubricants anywhere and everywhere. And don't believe those other lies about lube.
Sounds good? Good! But you might have a few questions about your personal lubricants with added flavor:
Are flavored lubes edible?
Emphatically, yes, flavored lubes are edible! Flavored lubricants should be tasted and taste good. Place a small amount of it on your partner an lick away. So much fun!
All the ingredients are safe to eat and are typically made from a water base lubricant. Meaning they won't stain sheets or clothes. They are water soluble and cleaned up with warm water.
Sounds too good to be true!
But not without a key caveat! Not all lubes are made equal. Whether talking about water-based lubricants or silicone lubricants. Therefore, you must be careful with the lubes you buy since some flavored lubes may contain sugar.
That said, whatever flavor lube you prefer, it will taste good on the tongue while giving oral sex. But it might cause some nasty yeast infection if you put it inside any other orifice.
Yeast and bacteria love warm, dark places and especially love sugar. If you want to keep those unpleasant odors at bay, avoid flavored lubes made with sugar.
Instead go with other sugar free sweetening options.
Okay… so what kinds of options exist?
The most popular sugar-free sweeteners include: Stevia, aspartame, saccharin, sucralose, and natural extracts. Each sweetener has their pros and cons.
What's so good about Stevia flavored lubes?
For starters, there's no sugar involved. Meaning that you can use it internally and not come away with a yeast infection afterwards.
It will still be sweet and taste pleasant, just no unsightly side effects. Besides, Stevia is a zero-calorie sweetener. So you could keep licking and not see a difference in your waistline. Everyone is happy!
Sounds great! Where do I get started?
There are great choices for you out there, such as:
Wicked Sensual Flavored Lubes
Wicked offers a great line-up of flavored lubes. They are sugar-free, vegan-friendly, long-lasting, and never sticky.
These lubes will never leave an aftertaste and are latex-safe. (Should oral sex progress into something more).
Below are some of my favorite choices.
And finally, their #1 bestseller (and my favorite)…

Buy on Amazon
With a bottle of Wicked Sensations flavored lube on your night stand, you're sure to live up to its naughty name. And we even have a list of common kinks to explore when you feel adventurous.
Intimate Earth
When you hop into bed as naked as you came, you'll want something as natural feeling as you are. Intimate Earth offers products that are 100% natural and organic.
Never using nasty chemicals that can harm your body. They offer full transparency on their website. Stating what products they don't use and why, such as glycerin, alum, and parabens.
They will always be vegan-friendly and offer the most enriching body-safe ingredients available.
Some of their best sellers include:
Sliquid Swirl Naturals
Sliquid offers many amazing sugar-free flavored lubes. They satisfy your taste buds as well as any other need you have. Their main sweetening ingredient, aspartame, is a zero-calorie sweetening agent that is synthesized. While it is safe for consumption by the FDA, it is best not to use the product on those vaginas. As it's known to irritate vaginas and may cause yeast infections. However, all other body parts are fair game.
All the lubes are still animal-by-product-free, condom-safe, and sure to be long-lasting. Check out their website for the awesome lubes they offer. Feel free to mix 'n' match as you please. Here are my favorite flavors…
System JO
System JO is a highly reputable lube company. You won't be disappointed in your flavored lube experience. Their lubes are constructed by lube experts with your satisfaction in mind. With seventeen flavors, you're bound to find several you like. Giving you some delicious additions to your nightstand lube collection.
Swiss Navy
Somebody call the General because we have some privates on the loose. Swiss Navy is an amazing lube brand that always takes care of its customers. Their flavored lubes are sweetened with saccharin. Another non-sugar sweetening substitute that has zero calories and tastes great. However, it can cause yeast infections when used in vaginal intercourse. (Just like Aspartame.) Opt for another lube if you want to go for that. But you can still use saccharin flavored lubes if you want a cheaper option. Only use it for external, oral, or anal purposes.
Strawberry Kiwi is my favorite flavored lube that Swiss Navy offers to support on your sexual mission.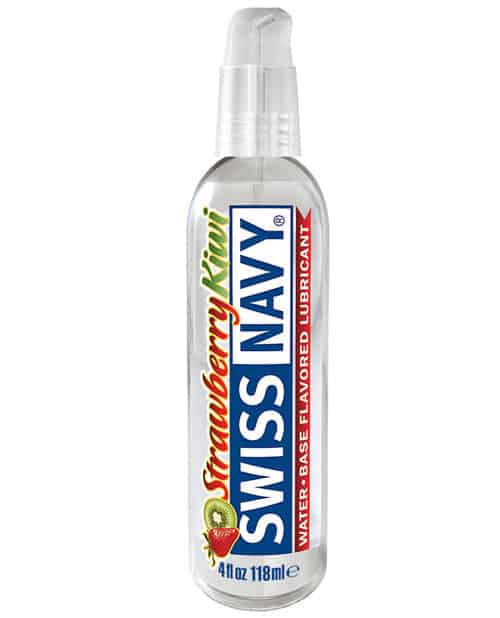 Strawberry Kiwi
Buy on Amazon
Wet Flavored Lube
As the name suggests… Wet flavored lube offer long-lasting lubrication that is comparable to none. Since it stays wet longer, you will too. Let your mouth water from their wonderful collection of flavored lubes. Sweetened with sucralose. It's a much different sweetener than the aspartame and saccharin mentioned before. It's still the same ol' zero calorie sweetener. But it is vagina safe and will not cause yeast infections in most people. Feel free to use it with whoever you want!
Check out these best flavored lubes offered by Wet. Not only are they body safe and tasty, but it's paraben-free, stain-free. And,of course, they're sure to be long-lasting.
Up next are a few lubes sweetened with natural extracts. (Flavoring derived from organic material such as essential oils, fruit, or sugar cane.) All these extracts are drawn out with ethanol, and the natural object from which it comes from. But it's not as good as the real thing. Natural extracts are not sugar based and doesn't include artificial sweeteners. So, there's no indication that natural extracts will cause infections. Go wild with these lubes! Some naturally flavored lubes include:
&nbps;
ID Frutopia
These vegan-friendly lube taste as fresh and clean as biting into a piece of fruit. Not only are they sugar-free and free of artificial sweeteners, but the're latex safe and tastes amazing. Flavors offered are: raspberry, mango passion, strawberry, banana, watermelon, and cherry. I recommend trying these personal favorites…
ID Juicy Lube
Also a solid choice from the same brand… ID Juicy is much like Frutopia except it contains glycerin and propylene glycol. Making them not vegan-friendly and not the most vagina-safe lube. However, they still offer seven delicious flavors in a cute little bottle.
Conclusion
Using flavored lubes brings an exciting new element to sex. Whatever flavor you prefer, there's bound to be one that's perfect for you.
Mind the ingredients depending on your needs, but just know that you'll always get something yummy.
Check out our ultimate lube introduction for more uses of the many kinds of lube.
Not sure which lube to use with which sexual activity? Our best lube for 9 kinds of sex guide can help.